Digital Display Units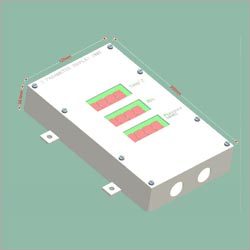 Digital Display Units
We are counted among the reliable manufacturers, suppliers and exporters of a wide range of Digital Display Units. Manufactured in accordance with the international quality standards, these products are further tested for superior quality by our team of quality controllers. Known in the market for clear display, easy operation and high level of accuracy, these products are used to display temperature, relative humidity and differential pressure of rooms. Digital Display Units are available with us in customized specifications in order to meet the variegated requirements of our valued patrons.

FEATURES:

The electrical control panels are used to supply power to electrical motors and equipments.

The PLC panels are used in process plants for plant automation purpose.

The company manufactured electrical PLC panels and drive panels are most commonly used in processing units, commissioning, machine automation, factory automation, site supervising, and pumping application.
Technical Specifications of Three Parameters Digital Display
Service: Air and non-combustible, compatible gases, Clean Room

Operating Supply: 24V AC OR 24 DC OR 220V AC 50 Hz +/- 10% specify at the time of ordering

Display: 3 Independent Display, Digital 3 & 1/2 Digit, 0.4" height. Red LED

Accuracy: 3 % of Full Scale for RH and 1% for Temp.

Linearity: +0.5% at (25oC)

Mounting: Wall Mounting

Connections: Screw Terminals.

Housing Material: MS Powder Coated with SS Top Cover

Operating Temperature: 0 to 50oC

Storage Temperature: 0 to 60oC

Dimensions: 200X150X45 (H)X(W)X(D) Suitable to mount in Service panel in clean room

Communication, Optional: RS 485

Calibration: Zero & Span Field Settable

Temperature Indicator Specification

Input Type: 0 TO 10 V DC OR 4 to 20 mA OR RTD Pt - 100 Ohms 2, 3, 4 Wire Type, Specify at the time of ordering

Humidity Indication Specification

Input Type: 0 to 10 V OR 4 to 20 mA, From Rh. Transmitter Output Specify at the time of ordering

Excitation to Rh Transmitter: 24V DC, Optional 24V AC

Pressure Indicator Specification

Input Type: 0 to 5 V DC OR 0 to 10 V DC OR 4 to 20 mA From Pr. Transmitter Output, Specify at the time of ordering

Range: 0 to 25 / 30 / 50 mm WC, Specify at the time of ordering

Excitation to Pr. Transmitter: 24V DC